JUNETEENTH IN GHANA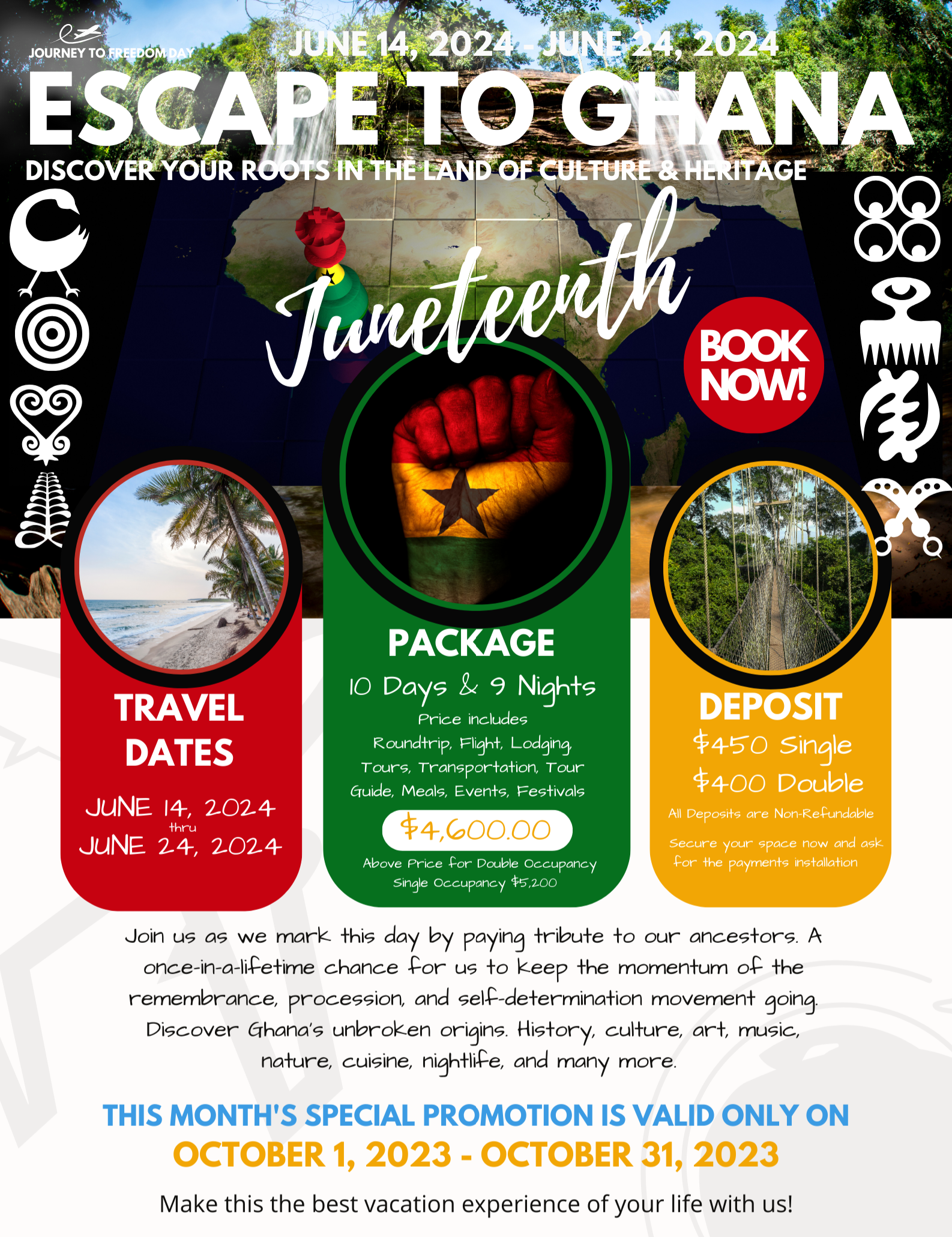 JUNETEENTH IN GHANA
ACCRA / CAPE COAST / ELMINA / KUMASI
June 14th - 24th, 2024
Day 1
Akwaaba
Arrive at Kotoka International Airport in Accra at 2:15 PM Private shuttle transportation will take you to the African Regent Hotel. Once Settled, Relaxed, and unwound, Meet and greet your fellow travelers, We will arrange a private welcome dinner at Green Lantern to go over the tour briefing. (D).
Day 2
Accra City
After breakfast, Meet Tailors for African wear measurements. Then head out at 10 AM for the city tour of Flag Staff House, Black Star /Independence Square, State House, Oxford Street (OSU), the W.E.B. Du Bois Center of Pan Africanism, and the Art Center of High Street, Kwame Nkrumah Mausoleum and Art & Craft Market. Lunch on your own at Reggie's Place. Return to hotel. If you want to get your hair braided, we can arrange for the stylist to come to the hotel at your own cost, Please notify us in advance. (B/D)
After Dinner, visit Jamestown to distribute goodies from the United States to the children of Jamestown.
Day 3
Cooking Class
After breakfast, travel about a 20-minute drive from Labadi Beach or hang out by the pool. Spend time relaxing and enjoying the hot African sun. Early evening, immerse in a Cooking Class - Ghanaian cuisine is rich in flavor and history. Learn how to make traditional dishes, with recipes that have been handed down through several generations, during this private cooking class in Accra. Connect with the local culture and make a few dishes from scratch, alongside your local guide. Then, sit down and enjoy the fruits of your labor paired with drinks and good conversation. (B/D)
Head Out to a Club to enjoy the Rest Of your Night expenses on your own.
Day 4
Slave River
At 8 a.m., travel to Elmina stopover at Assin Manso, (River of the Last Bath for Slaves before journey to the new world). Name Change at Assin Manso (A will be facilitated by the elders. You'll have the chance to attend your own traditional Ghanian naming ceremony where the elders will give you a soul and spirit name based on the day you are born.
Check-in Coconut Grove Hotel (B/L). All White Attire is usually worn on this day in observance of the "last bath" and "name change ceremony".
Day 5
Castles
At 10 AM, visit major landmarks used during the Trans-Atlantic Slave trade Elmina Castle, Fort Jago Cape Coast Castle, and the Historical Museum. We'll visit Elmina Slave Dungeon, in the bowels of the dungeon, listen to first-hand accounts of the country's grueling slavery route, and go up to the "Door of No Return", the last frontier between the dungeons and the huge slave ships waiting on the port. All White Attire is usually worn on this day in observance of the "Door of No Return".
Afterward, we'll return to Coconut Grove Hotel, dine, relax, spend time enjoying the Cape Coast beach or pool, ride local horses, or enjoy a traditional performance of a live band playing Highlife Music (B/L)
Day 6
Rain Forest
At 8 AM, Travel to the Kakum National Park to enjoy the dangling canopy bridge with a view of vegetation, flowers, and wild animals. The canopy walk is the longest and highest of its kind in West Africa. Much of Ghana's indigenous plant life, uncommon butterflies, and birds may be found in the forest.
After, Kakun, a 4–5-hour leisurely drive with stops, packed lunch to Kumasi. The second largest city in the country still drips with Ashanti traditions. Kumasi remains the seat of the Asantehene (Asante king) and the site of the Golden Stool, a symbol of royal authority and unity of the people. Billed as the "Garden City of West Africa,"
Once in Kumasi, we'll check in at Fredericks Lodge, a posh boutique hotel for a much-needed rest. Quick Kumasi orientation. (B/L).
Day 7
Land of Gold
The day starts with a visit to the traditional Adinkra Village. Here you'll enjoy an authentic Kente weaving, and stamp printing experience Exhibits include workshops on Ashanti Culture.
Visit Manhyia Palace (The Seat and Chief residence of the Asantehene - The Ashanti King and queen). This palace remains in use today and houses an interesting history museum.
Observe craftsmen at work in the traditional Adinkra Village.
After lunch, we'll visit Kokofrom Brass Community, and the huge, open-air Kejetia Market, where stalls sell everything from glass beads to sandals. School visit to donate school supplies and other essentials to the students/school. Depart for Accra. (B/L)
Day 8
ABURI GARDENS
Day at leisure. Rest and relax or explore a Day trip in the Aburi Mountains
Visit Tetteh Quarshie Cocoa farm to learn about how cocoa was first brought to Ghana. Following Aburi Botanic Garden, one cannot talk about horticulture in Ghana and West Africa without talking about the Aburi Botanical Gardens.
Aburi Craft Village where you'll find unique souvenirs, wall art, and other gift ideas for your friends and family back home. Get to know some of the country's artisans
Oboadaka Waterfalls near Pokrom, Aburi. 5-10 minutes' walk from where we park. Such amazing and serene views. It has a shallow pool with rocks (can make it awkward).
Day 9
CRUISING
Morning at leisure.
Afternoon boat ride at Akosombo Dam sipping wine and enjoying light local Ghana snack on (Lake Volta). The Volta Lake is one of the greatest landmarks of Ghana. Enjoy the live band music as you cruise to Adomi Bridge. Enjoy the calm of the lake and bask in the beauty of the mountain scenery and surroundings. We'll spend the early evening and have our farewell dinner at Bridge View Resort. Return to the mainland by late evening and depart for Accra. Arrive by early evening and drop off at pick up point. (B/D).
Day 10
KAKUM
SHOP, LUNCH + TRAVEL DAY
OUR TIME AND JOURNEY HAS COME TO AN END.... Day at leisure. Rest and relax or explore more Accra on your own.
Last-minute Shopping:
The various markets are bustling, lively places where you'll find unique souvenirs and get to know the rhythm of the city. Smell the traditional Ghanaian ingredients, and revel in the feeling of being a local while you do some last-minute shopping at the Shops in Accra. Learn the Ghanaian art of negotiating your prices.
Art and Design Tour of Accra:
Visit the Fantasy Coffin Makers, who make coffins to reflect a person's affiliations, or The Artist Alliance Art Gallery or Nubuke Foundation


TOUR TERMS & CONDITIONS
VISA
VISA & YELLOW FEVER MANDATORY
VISA PROCESSING BY ACCESS AFRICA: CLICK HERE
RATE: $4700 PP TWIN ROOM, $5400 SINGLE OCCUPANCY (British Airways)
RATE: $4950 PP TWIN ROOM, $5600 SINGLE OCCUPANCY (Delta Airlines)
NON-REFUNDABLE DEPOSIT: $400 REQUIRED BY OCT 31, 2023
FINAL PAYMENT DUE: MAY, 14TH 2024
MEALS: VARIOUS MEALS INCLUDED DAILY. BREAKFAST(B), LUNCH(L) OR DINNER(D)
HOTEL: DELUXE HOTELS IN EACH CITY
BAGGAGE: 2 bags plus one carry-on
PAYMENTS: All major credit cards accepted